Tangletown Gardens CSA and Farm Direct Store
EXCITING NEWS!!! OUR FARM DIRECT STORE IS NOW OPEN 24/7. ORDER ANYTIME AND SELECT YOUR PICK UP DATE AT CHECKOUT.
Welcome to our farm-fresh food store, featuring year-round Farm Direct options and our seasonal Community Supported Agriculture (CSA) Shares.
We feature products from our 140 acre farm in Plato, MN, where we follow principles of regenerative agriculture that produces the most nutritious food possible while respecting our animals, our soil, the earth, and your health. We also partner with select local vendors to round out our assortments.
Notes from the Farm
We celebrate fresh local food all year long at Tangletown Gardens.
We have freezers that are fully stocked with amazing pasture raised meats. Our cellars are full of the best storage items from our fields. Herbs and greens continue to thrive in our hoop houses, and our fields are bursting with the bounty of summer.
We hope that you will give them a try.
We produce only the very best for you and in a way that we can all be proud of.
Take advantage of either our Tuesday or Thursday pick up option at Wise Acre!
As always, THANK YOU!
-Farmer Dean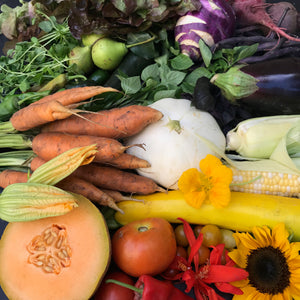 2024 Summer CSA Pickup locations
Wise Acre - Tuesday

Bad Weather Brewing - St. Paul -Tuesday

Sociable Cider Werks - Mpls - Wednesday

Spirit of Hope Church - Golden Valley - Wednesday

Waconia Brewing - Wednesday

Wise Acre - Thursday
Bang Brewing - Thursday

Tangletown Gardens Farm in Plato - Thursday
Please reach out to csa@tangletowngardens.com with any questions.